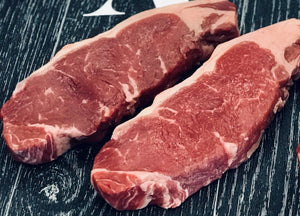 Straight from the Dry Age Chamber, aged for a minimum of 28 days on the bone before expertly butchered into steaks. Dry Aged steaks are well marbled and full of flavour!
Cooking instructions: 
Pan Fry From Chilled - If freezing at home defrost thoroughly before cooking.
Before Cooking, preheat frying pan to a high heat. Remove all packaging and allow steaks to reach room temperature, then rub with 5ml of oil and season with salt and pepper. For best results the pan must be hot.
Cooking times for Rare are 2 1/2 minutes, for Medium 3 minutes and for Well Done 5 minutes. During cooking, turn regularly. Before serving allow to rest out of the pan for 2 minutes. All cooking appliances vary. This is a guide only.
How do you like your steak? 
Rare - Dark red in colour with some red juice flowing. It will feel soft and spongy with slight resistance.
Medium-rare - Pink in colour with some juice. It will be a bit soft and spongy and slightly springy.
Medium - Pale pink in the middle with hardly any juice. It will feel firm and springy.
Well-done - Only a trace of pink colour but not dry. It will feel spongy and soft and slightly springy.
Nutritional Information: 
Nutritional Information

Typical Values As Sold

Per 100g

Per steak (227g)

Energy

1145kJ /275kcal

2599kJ /624kcal

Fat

19.0g

43.1g

- of which is saturates

9.6g

21.7g

Carbohydrates

0g

0g

- of which is sugar

0g

0g

Fibre

0g

0g

Protein

26.0g

59.0g

Salt

0.25g

0.56g
Devine
The steak was very enjoyable but I found that there seemed to be rather too much fat on the one I ate.
Excellent steak
Yet again nice texture and taste.
Fantastic Meat
We have ordered several times now as all the meat so far has been very tasty and good quality. We highly recommend but leave us some
Sirloin steaks
Brilliant, will be buying again thank you
Really really tasty
Great flavour and melts in your mouth, I'll be certainly buying more.