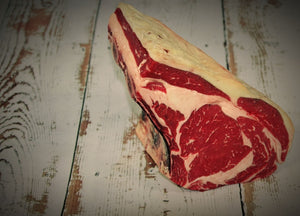 Place chilled meat products in a refrigerator immediately upon receipt, unless you wish to use immediately. Suitable for home freezing. If freezing at home, defrost thoroughly in refrigerator for 24 hours, ensuring product is fully defrosted before use. Once defrosted, use within 24 hours. IMPORTANT: If meat has thawed, do not refreeze.
Cooking instructions: 
Oven Cook From Chilled - If freezing at home defrost thoroughly before cooking.
Before cooking, preheat oven to 180°C/ 160°C fan/ gas 4 and remove all packaging. Place the rib of beef into a roasting tray in the centre of the oven and cook. For rare cook for 20 minutes per 500g, for medium cook for 22 minutes per 500g, and for well-done cook for 26 minutes per 500g. Once cooked, allow to rest for 15 minutes before carving.
Before serving, ensure product is piping hot throughout. All cooking appliances vary. Do not reheat once cooked. This is a guide only.
Nutritional Table:
Nutritional Information:

Component

Typical Analysis 100g

Energy

1052kJ/253kcal

Fat

19.8g

- of which is saturates

8.9g

Carbohydrates

0g

-of which is sugar

0g

Fibre

0g

Protein

18.8g

Sodium

52mg

Sodium expressed as salt

0.12g