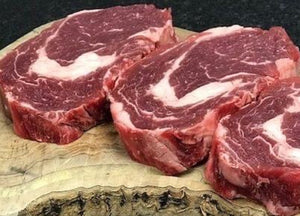 Straight from the Dry Age Chamber, aged for a minimum of 28 days on the bone before expertly butchered into steaks. Dry Aged steaks are well marbled and full of flavour!
Cooking instructions: 
Pan Fry From Chilled - If freezing at home defrost thoroughly before cooking.
Before Cooking, preheat frying pan to a high heat. Remove all packaging and allow steaks to reach room temperature, then rub with 5ml of oil and season with salt and pepper. For best results the pan must be hot.
Cooking times for Rare are 2 1/2 minutes, for Medium 3 minutes and for Well Done 5 minutes. During cooking, turn regularly. Before serving allow to rest out of the pan for 2 minutes. All cooking appliances vary. This is a guide only.
How do you like your steak? 
Rare - Dark red in colour with some red juice flowing. It will feel soft and spongy with slight resistance.
Medium-rare - Pink in colour with some juice. It will be a bit soft and spongy and slightly springy.
Medium - Pale pink in the middle with hardly any juice. It will feel firm and springy.
Well-done - Only a trace of pink colour but not dry. It will feel spongy and soft and slightly springy.
Nutritional Information: 
Nutritional Information

Typical Values As Sold

Per 100g

Per steak (284g)

Energy

960kJ /230kcal

2726kJ /653kcal

Fat

14.5g

41.1g

- of which is saturates

7.0g

19.8g

Carbohydrates

0g

0g

- of which is sugar

0g

0g

Fibre

0g

0g

Protein

24.8g

70.4g

Salt

0.20g

0.56g
Tender and full of flavour
These steaks are delicious. If anyone can ruin a steak it's me - 'cos I like all my meat well done. These steaks survived and remained tender and tasty, which made my partner's day!
Fabulous meat.
I would not buy my meat from anywhere else. The ordering is easy and the delivery happens exactly as they promise.
Disappointed
I am sorry we cannot give the stakes you sent us with five stars. They were poor. Stringy and we did not eat them all. Sorry but we were very disappointed. My son who eat with me asked if I had cooked them differently. It I had not. We to be honest did not like.
Most enjoyable
Great taste
Flavoursome will be ordering more
Can't wait to try the rest of the range