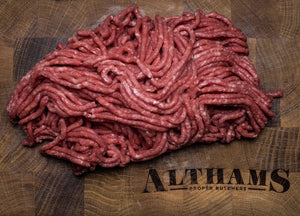 Cooking instructions:
To Pan Fry From Chilled - If freezing at home defrost thoroughly before cooking
Before cooking, preheat 5ml of oil in a pan. Remove all packaging and place mince into a frying pan and distribute evenly. Pan fry on a high heat for 6-8 minutes, stirring frequently. Drain off fat halfway through. Before serving, ensure food is piping hot throughout. All cooking appliances vary. This is a guide only.
Nutritional Information:
Nutritional Information

Typical Values As Sold

Per 100g

Per Pack (500g)

Energy

613kJ /146kcal

3065kJ /730kcal

Fat

6.4g

32g

- of which is saturates

2.6g

13g

Carbohydrates

0g

0g

- of which is sugar

0g

0g

Fibre

0g

0g

Protein

22.1g

110.5g

Salt

0.16g

0.8g
Cooks very well.
Used half of this to make spaghetti bolognese. Very easy to cook and a great flavour to the mince. Can't wait to use the other half for mince and potatoes. No gristle and just a nice amount of fat for flavour.
Too much gristle
Maybe I got a bad batch looking at the reviews so not sure but I had mine in a chilli and was far too much gristle, it made my meal unenjoyable. Just to be clear my beef came in the butchers box offer.
Great quality
Very good quality, right mix of fat and meat, great flavour.
A staple in our freezer
Really good mince steak - ideal for burgers, Bolognese or cottage pie
Excellent minced beef
We really like this beef - very flavourful.