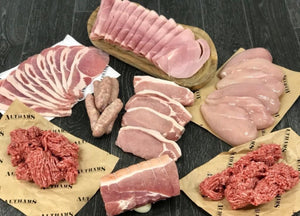 Althams Butchers Meat  box consists of:
2 x 700g Chicken Fillets
4 x 170g Pork Loin Steaks
1 x 340g Butchers Cumberland Sausage
1 x 500g Cooked Sliced Ham
1 x 900g British Gammon
2 x 500g Beef Steak Mince
1 x 454g Unsmoked Back Bacon
Please refer to the individual product on our site for Cooking Instructions and Nutritional Information.
Excellent quality products and great service. Will definitely buy again
This was our first order but it certainly won't be the last. Highly recommended
tasty food
this is my second meat box order and looks as good as the first which was really lovely and we had a lot of tasty meals,this is great produce and value for money.
Great meat box
I've had these meat boxes before and can highly recommend them great quality products and services from the staff behind the scenes if you have a problem 👍👍👍
Fantastic
Lovely produce and great delivery service
Well packaged