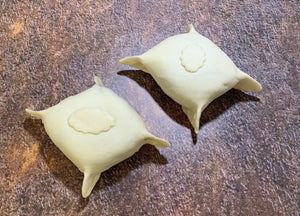 PLEASE NOTE - THE LAST DATE FOR ORDERS TO BE PLACED FOR DELIVERYS OVER THE CHRISTMAS PERIOD IS WEDNESDAY 14TH DECEMBER. OUR LAST CHRISTMAS DELIVERY DATE WEDNESDAY 21ST DECEMBER!
IN ADDITION TO THIS PLEASE NOTE THAT WE WILL NOT BE OFFERING ANY HOME DELIVERYS FROM WEDNESDAY 21ST DECEMBER 2022 UNTIL WEDNESDAY 6TH JANUARY 2023! ALL ORDERS PLACED AFTER THE 14TH DECEMBER WILL NOT BE DELIVERED UNTIL 6TH JANUARY 2023!!!
Two Individual Beef Wellingtons - fillet of British Beef topped with a delicious rich Chicken Liver Pate and Mushroom and Onion Duxelle encased in a Puff Pastry.
Cooking Instructions:
Oven Cook From Chilled - If freezing at home defrost thoroughly before cooking.
Before Cooking, preheat oven to 230°C / Fan 210°C / Gas 8, remove all packaging and leave out to rest for 10 to 15 minutes. Brush the top of the Beef Wellingtons with a beaten egg yolk and place on a baking tray in the centre of a preheated oven. For a rare Wellington cook for 15 minutes, a medium Wellington cook for 20 minutes and for a well done wellington cook for 25 minutes. Once cooked, remove from the oven and rest for 10 minutes. 
Before serving, ensure product is piping hot throughout. All cooking appliances vary. Do not reheat once cooked. This is a guide only.
Place chilled meat products in a refrigerator immediately upon receipt, unless you wish to use immediately. Suitable for home freezing. If freezing at home, defrost thoroughly in refrigerator for 24 hours, ensuring product is fully defrosted before use. Once defrosted, use within 24 hours. IMPORTANT: If meat has thawed, do not refreeze
Nutritional Information
Nutritional Information

Typical Values As Sold

Per 100g

Per portion  (194g)

Energy

892kJ /214kcal

                         1730kJ/415kcal

Fat

14.0g

27.1g

- of which is saturates

6.3g

12.2g

Carbohydrates

9.6g

18.6g

- of which is sugar

1.1g

2.1g

Fibre

0.4g

0.7g

Protein

12.9g

25.0g

Salt

0.25g

0.48g
Not impressed
Ulfortunately not impressed with product quality/ taste and therefore value for money. Tried it once that enough no repeat buy.
Delicious
Well packaged. I followed the instructions on your website and they turned out perfect.
tender tasty had beef wellington sausages
Wellingtons
Absolutely lovely. The meat was so tender and the pastry was good too
Quality meat
Very tasteful and delicious sausages 5star