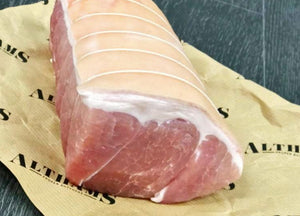 Cooking Instructions:
Oven Cook From Chilled - If freezing at home defrost thoroughly before cooking
Preheat oven to 190°C / Fan 180°C / Gas Mark 5, remove all packaging and place the gammon into a roasting tray. Add 300ml of water to the tray and cover with foil, ensuring a tight fit around the tray edge. Cook for 60 minutes per kilo. Two thirds before the calculated end cooking time, remove from the oven and carefully remove the foil and netting from the Gammon and place back in the over for the remainder of the estimated cooking time.
Remove from the oven and rest for 10 to 15 minutes before carving. Before serving ensure food is piping hot. All cooking appliances vary. This is a guide only. 
Nutritional Information: 
Nutritional Information

Typical Values As Sold

Per 100g

Per Portion (100g) average

Energy

575kJ /138kcal

575kJ /138kcal

Fat

7.5g

7.5g

- of which is saturates

2.5g

2.5g

Carbohydrates

0g

0g

- of which is sugar

0g

0g

Fibre

0g

0g

Protein

17.5g

17.5g

Salt

2.2g

2.2g
Lovely
Absolutely gorgeous and well worth the money. Thank you !
Fabulous
Juicy, tender and full of flavour.. absolutely delicious. Will be buying more for sure!
Good food
All looke
All the meat looked so fresh and mouth watering. All of the order I have away other than the Gannon which I have had myself and it was delicious. Will be ordering again. Extremely pleased that I found you. All other products also enjoyed just as it should be.

N
Gammon tasted wonderful. It was nice and lean and cooked well.Everyone enjoyed it
Too much fat
Regularly order this ham but can vary in quality depending on which bit of the meat you are given. Range from one with no scrappy grisly bits to one without. Some have low amount of fat and another has loads.
Received 2 joints, one was fine, as I cut them in half to freeze them, and the other had a thick layer of fat weighing 8 oz, and meat 1Ib which is not acceptable.
Need a better quality control system before sending out to a now very disappointed customer.
The quality of the meat is very good, tender and not salty.