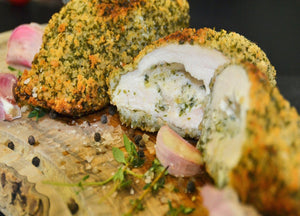 Cooking instructions:
Oven Cook From Chilled 
Before cooking, preheat oven 180°C / Fan 160°C / Gas 5. Remove all packaging and place the Kiev's on to a tray and place on the middle shelf of the oven. Cook for 30 to 35 minutes. Before serving ensure food is cooked thoroughly. All cooking appliances vary. This is a guide only. 
Nutritional Information: 
Nutritional Information:

Component

Typical Analysis 100g

Energy

1264kJ / 302kcal

Fat

17.4g

- of which is saturates

10.1g

Carbohydrates

17.8g

- of which is sugar

1.00g

Fibre

0.8g

Protein

19.5g

Sodium

260mg

Sodium expressed as salt

0.65g
Kievs were delicious. Would definitely recommend.
Brilliant
Chicken kiev is wonderful.
Yummy
These are big! I decided I had room in my tummy after eating the first one to eat both. Don't do this unless you want to feel like you are going to pop. Lol.
I cooked mine in the air fryer for 24 minutes. The result was a super crispy coating and really moist chicken waiting inside for your knife to release the garlic butter to ooze out on your plate.
Now you can understand why I ate both in one sitting. I'm so happy I bought 3 packs.