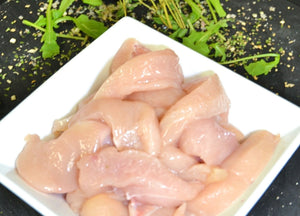 Cooking instructions:
Pan Fry From Chilled - If freezing at home defrost thoroughly before cooking
Before cooking, preheat 5ml of oil in a frying pan. Remove all packaging, add the chicken strips to the pan. Fry for 8-10 minutes stirring regularly. Before serving ensure food is piping hot throughout. All cooking appliances vary. This is a guide only.
Nutritional Information:
Nutritional Information: 

Component

Typical Analysis 100g

Energy

621kJ / 147kcal

Fat

3.1g

- of which is saturates

0.9g

Carbohydrates

0g

- of which is sugar

0g

Fibre

0g

Protein

29.8g

Sodium

60mg

Sodium expressed as salt

0.15g
Large Meat Pack
Delivered on time and well packaged
Good quality, Kiev very tasty, not keen on Cajun strips but that's personal taste
Sam is very friendly and helpful