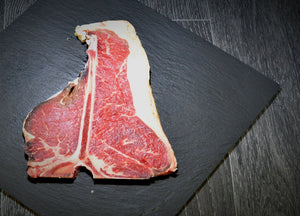 Cooking Instructions
Pan Fry From Chilled - If freezing at home defrost thoroughly before cooking.
Before Cooking, preheat frying pan to a high heat. Remove all packaging and allow steaks to rest and reach room temperature. Once at room temperature massage the steaks with a dash of oil and season with salt and pepper. For best results the pan must be hot.
For a rare steak cook for 1 to 2 minutes on each side For medium rare cook for 2 to 2 and a half minutes each side. For medium cook for 3 to 3 and a half minutes each side. For well done cook for 4 to 5 minutes each side. 
Before serving allow to rest out of the pan for 4 minutes. All cooking appliances vary. This is a guide only.
How do you like your steak? 
Rare - Dark red in colour with some red juice flowing. It will feel soft and spongy with slight resistance.
Medium-rare - Pink in colour with some juice. It will be a bit soft and spongy and slightly springy.
Medium - Pale pink in the middle with hardly any juice. It will feel firm and springy.
Well-done - Only a trace of pink colour but not dry. It will feel spongy and soft and slightly springy.
Nutritional Information:
Nutritional Information

Typical Values As Sold

Per 100g

Per Portion (425g) average

Energy

1052kJ /253kcal

4471kJ /1075kcal

Fat

19.8g

84.1g

- of which is saturates

8.9g

37.8g

Carbohydrates

0g

0g

- of which is sugar

0g

0g

Fibre

0g

0g

Protein

18.8g

79.9g

Salt

0.13g

0.55%
first time purchase of meat!!
having seen Althams meat last week on QVC i investigated and was pleased to find it is in MOrecambe! the T bone steak was superb i am only looking forward now to trying the sirloin and the burgers!! bring it on!! nice one bud