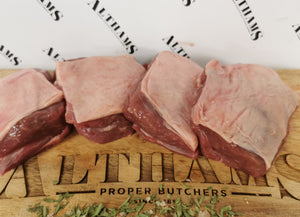 Cooking Instructions:
Grill From Chilled - If freezing at home defrost thoroughly before cooking.
Before cooking, preheat oven to 200°C/ Fan 180°C/ Gas 6 and remove all packaging. Massage 5ml of Olive Oil into the Lamb Rump Steak and sprinkle with Salt and Pepper. Place on a baking tray and cook in the centre of the oven for 20-25 minutes. Before serving ensure food is piping hot throughout. This is a guide only, all cooking appliances vary.
Hmmmm problems
Rump steaks good but........
I have tried to contact customer services now 3 times and they are not responding.
If they don't respond soon I will no longer be using althams...........
Birthday meat hamper
We ordered a meat selection for our son on his birthday. We live in Ireland and wanted to send him his favourite foods in the UK. They were up to the usual great standard. Great quality meats. Thanks for helping us make his day.
Package better
The packaging on my sausages was not secure
The Best
Excellent as usual nice and tender will buy again
lamb rump steaks
We definitely enjoyed them. Will have them again