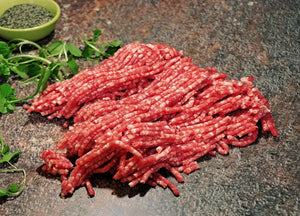 Cooking instructions:
To Pan Fry From Chilled - If freezing at home defrost thoroughly before cooking
Before cooking, preheat 5ml of oil in a pan. Remove all packaging and place mince into a frying pan and distribute evenly. Pan fry on a high heat for 6-8 minutes, stirring frequently. Drain off fat halfway through. Before serving, ensure food is piping hot throughout. All cooking appliances vary. This is a guide only.
Nutritional Information:
Nutritional Information: 

Component

Typical Analysis 100g

Energy

817kJ/196kcal

Fat

13.3g

- of which is saturates

6.2g

Carbohydrates

0g

- of which is sugar

0g

Fibre

0g

Protein

19.1g

Sodium

0.069g

Sodium expressed as salt

0.17g
Brilliant service, wonderful food.
Really enjoyed our meats, some still in the freezer, as always, I over bought, eyes still too big
Absolutely fantastic quality
We could not fault any of our order, I was a time serviced butcher and I have tasted some lovely cuts of meat over the years, but I must say Althams butchers are definitely up there for quality taste and value for money