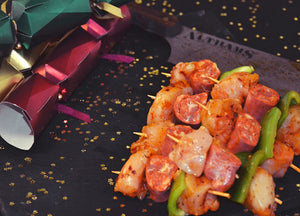 Mini Piri Piri Chicken & Chorizo Kebabs (x6) - Skewers of Piri Piri marinated Chicken Breast and Diced Chorizo 
Cooking instructions: 
Oven Cook From Chilled - If freezing at home defrost thoroughly before cooking.
Before cooking, preheat oven. 190°C / Fan 170°C / Gas 5 and remove all packaging (all cooking appliances vary). Place kebabs on a baking tray on the middle shelf of the oven for 18 to 20 minutes. During cooking, turn halfway through. 
Before serving, ensure product is piping hot throughout. All cooking appliances vary. Do not reheat once cooked. This is a guide only.
Place chilled meat products in a refrigerator immediately upon receipt, unless you wish to use immediately. Suitable for home freezing. If freezing at home, defrost thoroughly in refrigerator for 24 hours, ensuring product is fully defrosted before use. Once defrosted, use within 24 hours. IMPORTANT: If meat has thawed, do not refreeze.
Nutritional Information:
Nutritional Information:

Component

Typical Analysis 100g

Energy

649kJ/155kcal

Fat

8.2g

- of which is saturates

2.3g

Carbohydrates

2.5g

-of which is sugar

1.6g

Fibre

0.5g

Protein

17.8g

Sodium

384mg

Sodium expressed as salt

1.0g
Nice but mine didn't have amy chorizo? Just chicken pepper onion?