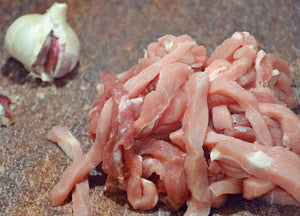 Cooking instructions:
Pan Fry From Chilled - If freezing at home defrost thoroughly before cooking
Before cooking, preheat 5ml of oil in a frying pan. Remove all packaging, add the pork strips to the pan. Fry for 6-8 minutes stirring regularly. Before serving ensure food is piping hot throughout. All cooking appliances vary. This is a guide only.
Nutritional Information:
Nutritional Information: 

Component

Typical Analysis 100g

Energy

885kJ / 213kcal

Fat

15.2g

- of which is saturates

5.1g

Carbohydrates

0g

- of which is sugar

0g

Fibre

0g

Protein

19.0g

Sodium

60mg

Sodium expressed as salt

0.15g
Just received yesterday 19th and as yet haven't had time to taste any of my order yet
Far better than supermarket meat!
We did a stir fry with the pork strips and I was initially sceptical as the supermarket equivalent can often seem tough & chewy. Needn't have worried! Even through the spicy sauce they still tasted great and not a hint of chewiness or gristle. Won't be buying from the supermarket ever again!
pork strips
we thoroughly enjoyed the pork strips - we will buy again
Brilliant
Everything is absolutely brilliant, all of the meat no matter what it is from pork to beef ham sausages Everything nothing can be faulted it is all perfect meat. I am now buying on a regular basis, will not shop anywhere else.