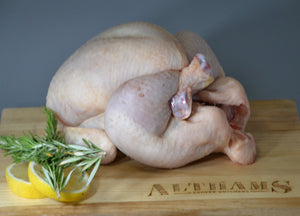 British Medium Whole Fresh Chicken, Typically: 1.2Kg - 1.3Kg
Cooking instructions:
Oven Cook From Chilled - If freezing at home defrost thoroughly before cooking.
Before cooking, preheat oven 200°C / Fan 180°C / Gas 6. Remove all packaging and place chicken into a shallow roasting tin  and season. Loosely cover with foil, place on the middle shelf of the oven and cook for 55 minutes per kg. 20 minutes before reaching the end cooking time, remove foil to allow skin to crisp. Once cooked, before carving allow to rest for 15 minutes loosely covered with foil. Before serving ensure food is cooked thoroughly. All cooking appliances vary. This is a guide only. 
Nutritional Information:
Nutritional Information: 

Component

Typical Analysis 100g

Energy

835kJ / 201kcal

Fat

13.8g

- of which is saturates

3.8g

Carbohydrates

0g

- of which is sugar

0g

Fibre

0g

Protein

19.1g

Sodium

70mg

Sodium expressed as salt

0.17g
Poor taste and quality
We ordered pork steaks and chickens. The steaks were very tough and fairly tasteless. As regards the chickens, they were also fairly tasteless. As regards previous reviews raving about the taste - obviously they have never tasted good pork or chicken. Will not order again
Too small
I've placed meat orders several times now and for each delivery the quality and quantity of meats have been superb. Unfortunately, as per my previous "chicken" review, the chickens are getting smaller and smaller. The chicken which arrived with my most recent delivery was exceptionally small.
I won't be ordering again due to cost & weight. This is regrettable as they taste superb.
Best taste
These chickens are the best tasting ever. There are cheaper ones out there but they don't taste anything like these! Really good value despite sometimes being a little on the small size.
Lovely
I've been ordering from Althams for a while now, unfortunately the whole chickens delivered on this occasion are possibly the smallest we've ever received. I'll carry on ordering and see if the size increases as I'm sure it's just what is available on the day. Still the same beautiful tasting chicken..!
Best ever!
These chickens are super tasty, fantastic quality and large enough to feed four people. They beat a well known high end food supplier hands down for quality and value. I'll be placing another order very soon