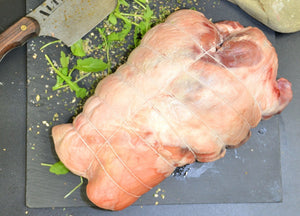 Our Whole Lamb Shoulder has been boned and rolled by our skilled butchers is easy carve, completely boneless and approximately 2-3kg.
Cooking instructions:
Oven Cook From Chilled - If freezing at home defrost thoroughly before cooking.
Before cooking, preheat oven 200°C / Fan 190°C / Gas 6. Remove all packaging and place Lamb into a shallow roasting tin, massage with olive oil and lightly season. Place on the middle shelf of the oven, and cook for 25-30 minutes per 500g. Once cooked, before carving allow to rest for 15 minutes loosely covered with foil. Before serving ensure food is cooked thoroughly and piping hot throughout. All cooking appliances vary. This is a guide only. 
Nutritional Information:
Nutritional Information: 

Component

Typical Analysis 100g

Energy

976kJ/235kcal

Fat

18.3g

- of which is saturates

8.5g

Carbohydrates

0g

- of which is sugar

0g

Fibre

0g

Protein

17.6g

Sodium

63mg

Sodium expressed as salt

0.16g